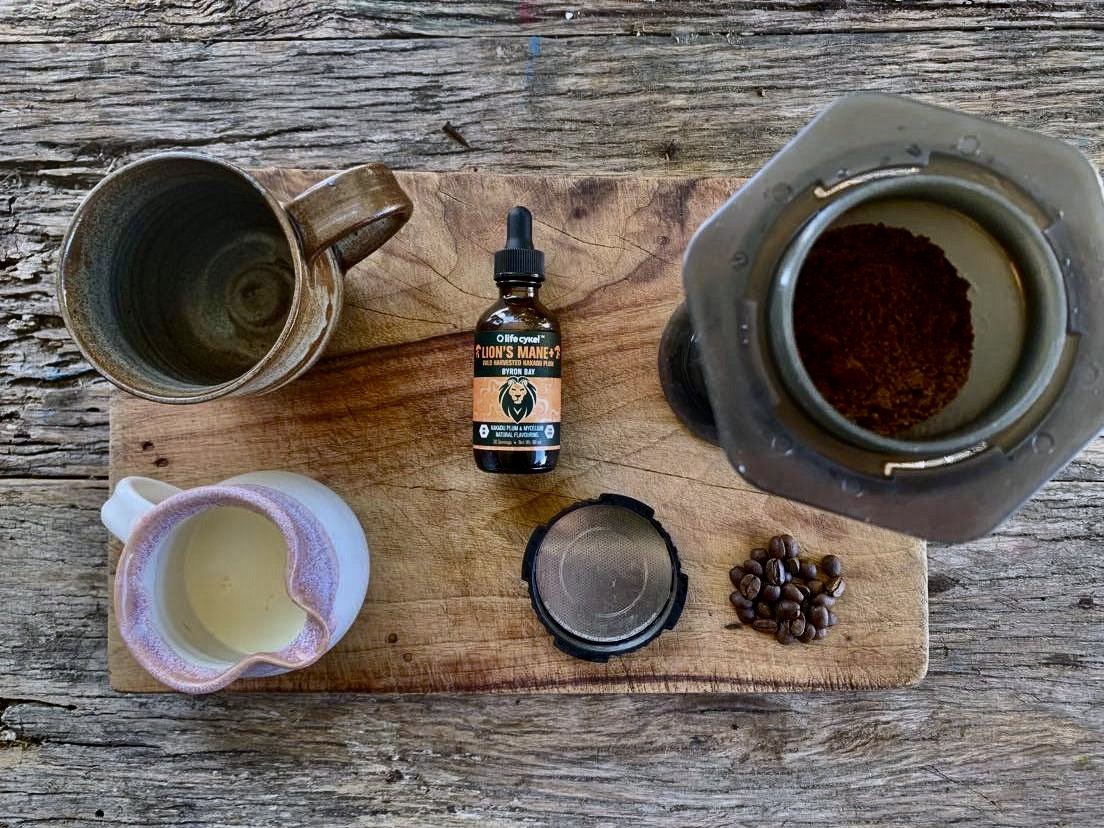 The Bircher Bar Lion's Mane Coffee
Our Friends at The Bircher Bar are big Life Cykel fans, especially our Lion's Mane Double Liquid Extract and they wanted to share with you an easy recipe to show you how they incorporate Life Cykel into their daily routine. Here are some wise words from Darcy at the Bircher Bar:
There's no way to sugar coat this - I'm definitely a coffee addict. 

In fact, I can't remember the last time I went a full day without one.

Don't get me wrong, I'm not lamenting this fact, I love coffee and have no plans to change my routine, but even I can admit that sometimes it can leave you feeling not so great.

Anyone who's had one too many cups of coffee can attest to the 'jitters' - that anxious tipping point that takes your coffee experience from a pleasant and productive high to a shaky and scatter-brained low.

Well, in combining my love for coffee and functional mushrooms, I've discovered a simple and brilliant recipe that:

1. Delivers a smooth and consistent energy boost that helps me stay productive and focused for longer periods

2. Packs in a bunch of epic health benefits 
3. Last but not least, and maybe most importantly - absolutely delicious


So, without further ado...
The Bircher Bar's Lion's Mane Coffee!

With a few simple ingredients on hand, you'll have this whipped us as your morning go-to in under 5 minutes.

This is how I have my morning coffee every single day!
Ingredients:

• Organic coffee
• Life Cykel's lion's mane mushroom
• Full fat organic cream
Method:

• Prepare a serve of black coffee however you most like it. It doesn't matter if you prefer Espresso or French press style, both will work fine. I personally like to pour an espresso shot with the AeroPress and top it up with hot water.

• Add a full dropper Of Life Cykel's lion's mane mushroom liquid extract. And squirt another straight into your mouth for good measure. 

• Add a generous splash of organic full-fat cream. Don't be afraid to give a good pour in my opinion - full fat organic cream gives an amazing richness and texture to your coffee. If you're vegan, coconut cream is another option to explore.

• If you like your coffee short - then you're done! But if you prefer a longer brew, top your cup with some hot water.
Enjoy Your Brew!

This recipe is not only delicious but helps with focus and concentration, while delivering a long list of other benefits.

I often spend long hours in front of a computer doing demanding and creative work, so I'll take any extra mental edge I can get!

I hope you enjoy it as much as I do!
Go and check out The Bircher Bar at https://www.thebircherbar.com.au/ for other premium health, wellness and lifestyle products.